Moby Dick
LOD / Gorges Ocloo, Dominique Pauwels & Ben Okri
At last Queequeg speaks
On tour,

C-mine Cultuurcentrum - Genk (BE)

On tour,

Theater Antigone - Courtrai (BE)

On tour,

Kaaitheater - Brussels (BE)

LOD Studio, Gent (BE)

LOD

On tour,

O. Festival - Rotterdam (NL)

BIJLOKE WONDERLAND 2021

in, Gent

Bijloke Wonderland - LOD studio - Ghent (BE)

BIJLOKE WONDERLAND 2021

in, Gent

Bijloke Wonderland - LOD studio - Ghent (BE)

BIJLOKE WONDERLAND 2021

in, Gent

Bijloke Wonderland - LOD studio - Ghent (BE)

BIJLOKE WONDERLAND 2021

in, Gent

Bijloke Wonderland - LOD studio - Ghent (BE)

On tour,

ARSENAAL/LAZARUS - Mechelen (BE)

On tour,

CC Brugge - Brugge (BE)

On tour,

De Grote Post - Ostend (BE)

LOD Studio, Gent (BE)

LOD

LOD Studio, Gent (BE)

LOD

On tour,

de Warande - Turnhout (BE)

On tour,

CC Brugge - Brugge (BE)
"A swinging performance in the belly of the whale" ★★★★ — De Morgen

"Josse De Pauw plays king Ahab toothless and bellowing like an old sailor" ★★★★ — De Standaard

"Josse De Pauw is a grand figure who knows how to turn his false teeth - in his mouth or not - into an asset" ★★★★ — Knack Focus

"Moby Dick, at last Queequeg speaks is an exuberant opera that brings together all the great themes of the time in the seemingly innocent form of a fairy tale" — Etcetera
Gorges Ocloo had for a long time wanted to create a play based on Herman Melville's literary classic Moby Dick. When, several years ago, he saw a newspaper photo of an 11-year-old girl in her Sunday dress floating lifelessly in the azure-blue water of the Mediterranean Sea, the pieces of the puzzle started to come together. Did this girl, one of the first victims of a sunken refugee boat, know beforehand how dangerous her journey would be? And would the ever silent Queequeg, portrayed as an exotic 'barbarian', have boarded the Pequod if he had known in advance that Captain Ahab had a recklessly vengeful mission in mind?
Ocloo contacted the Nigerian writer Ben Okri for the adaptation of Moby Dick. He reworked Melville's account to create a magic-realist story of the gap between power and powerlessness, high and low, rich and poor. A story set after the ship has sunk. In a poetic and enchanting world inspired by voodoo and animist tales. A place where anything is possible. Where Ahab and Queequeg exchange views for the first time, free from status and ego, free from material things, pure and untrammelled.
On stage we see Josse De Pauw, soprano Nobulumko Mngxekeza-Nziramasanga and musician Toon Callier on a composition by Dominique Pauwels. You can expect a jazzy opera, swinging and full of energy, about the need for conciliation in an increasingly polarised society.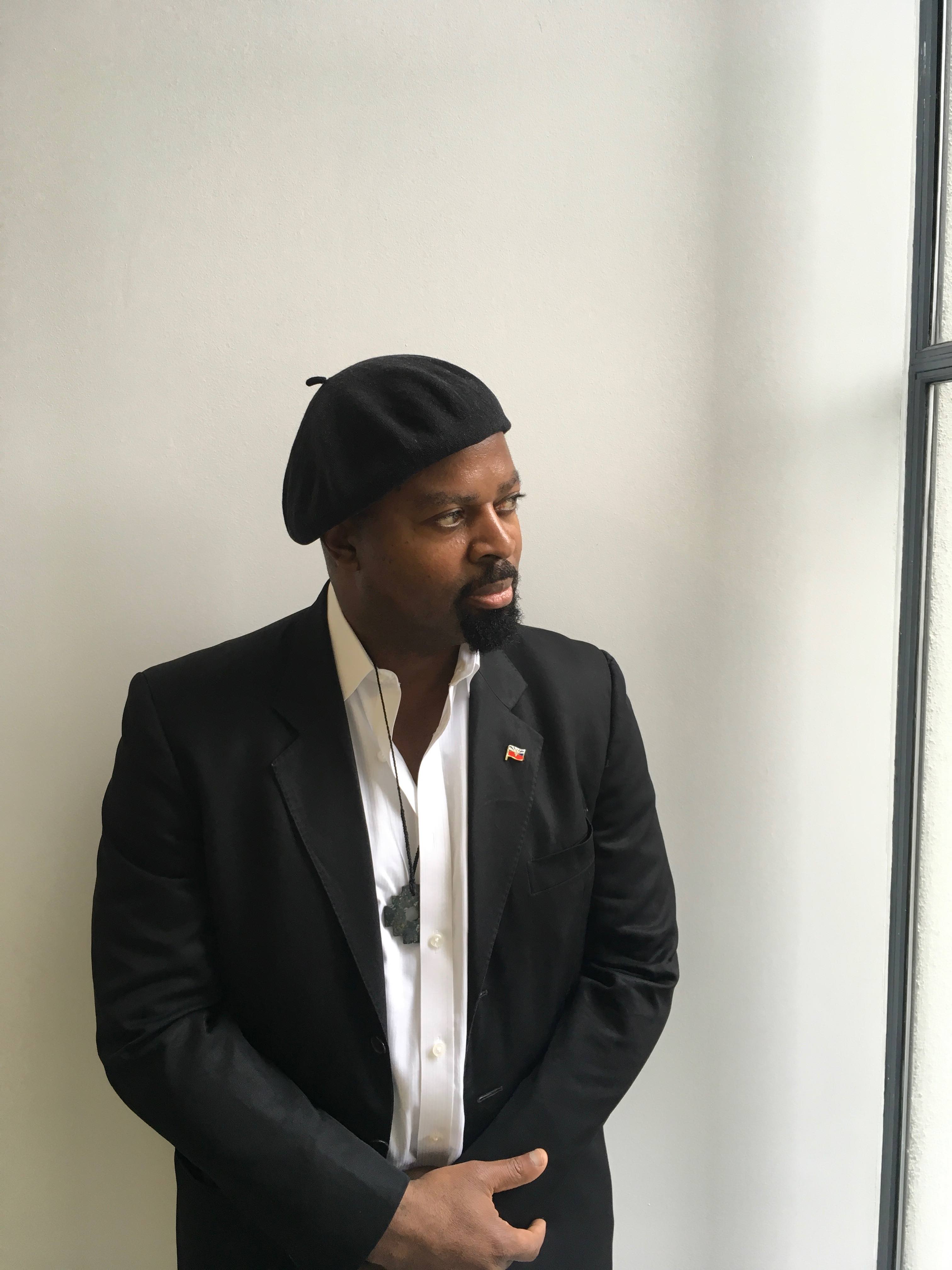 Author Ben Okri by (c) Mat Bray
'It is an evil voyage, I tell thee. If Ahab has his way, neither thee nor me, nor any member of this ship's company, will ever see home again.'
Credits
concept, direction, libretto & scenography Gorges Ocloo composition Dominique Pauwels (voice soprano) Toon Callier (instumental) after the book by the same name by Herman Melville text Ben Okri libretto & dramaturgy Bart Capelle with Josse De Pauw soprano Nobulumko Mngxekeza-Nziramasanga live music Toon Callier repetitor Jan Debel scenography Giovani Vanhoenacker light Jannes Dierynck sound Brecht Beuselinck technics Johannes Ringoot, Lukas Vanhoutte (intern) costumes Freya Proost production manager Eva De Wolf & Kristel Deweerdt production LOD muziektheater coproduction C-TAKT Pelt/Genk, deSingel Antwerpen, CC De Grote Post Oostende, Kunstencentrum Vooruit Gent with the support of the TAX Shelter measure by the Belgian Federal Gouvernment tax shelter partner Flanders Tax Shelter